Stephen R. Powell, MD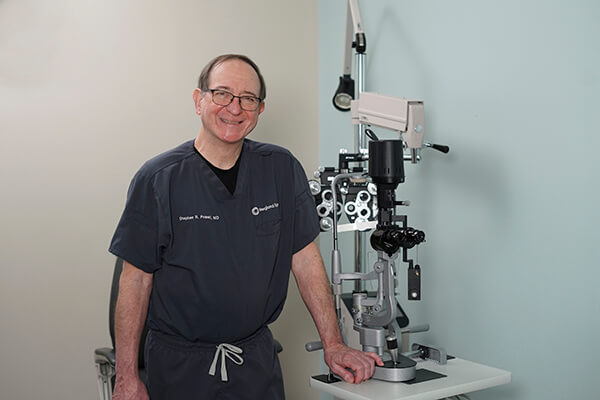 Specialties
Practice Locations
Dr. Powell is a graduate of West Virginia University with a B.S. Degree in Medical Technology and a Master of Science Degree in Clinical Chemistry from the University of Dayton. Dr. Powell attended medical school at West Virginia University. He was inducted into the Alpha Omega Alpha medical honor society. His internship and residency in Ophthalmology were also completed at the West Virginia University Hospital. Dr. Powell served as co-Chief Resident during his senior year of residency.
Dr. Powell began in private practice in Morgantown, WV in 1987, when he joined Dr. Robert Trotter, former chairman of the Department of Ophthalmology at WVU. He has provided comprehensive medical and surgical eye care in Morgantown, Oakland, Maryland, and Cumberland, Maryland, for over 30 years. In the early 90's he established Regional Eye Associates, Inc., to better serve patients in the region with multiple offices and talented physicians. In 1997, he took the lead role in developing the Surgical Eye Center of Morgantown to provide the highest quality, accessible and cost effective care to patients in the region who were receiving surgical eye care.
Dr. Powell is a Board Certified, comprehensive ophthalmologist providing a wide range of care including advanced cataract surgery, comprehensive glaucoma treatment, eyelid and eye muscle surgery, and multiple laser surgeries for diseases such as diabetes and glaucoma. He is a patient advocate and is actively involved in promoting high quality eye care in the region, the state, and nationally. Dr. Powell resides in Morgantown with his wife, Vickie. He has two daughters. Dr. Elizabeth Powell and husband Jeffrey Bell live in Cincinnati, Ohio. She is on the faculty of the University of Cincinnati School of Medicine. Elizabeth is fellowship trained in Emergency Medicine and will soon be beginning a new fellowship as an Anesthesia Intensivisit. Elizabeth attended medical school at the University of Pennsylvania and also completed her residency in Emergency Medicine at Penn. Sarah Powell and her husband Mark Graeffe live in Emmaus, Pennsylvania. She attended law school at the Emory University School of Law in Atlanta. She is an attorney in the Healthcare and General Litigation Department of the law firm White and Williams. Sarah and Mark have a new daughter, Alice Victoria Graeffe.