Emergency Care
24 hour emergency care is available to our patients by calling the Regional Eye Associates' after-hours phone line.
Full-Service Optical Shops
Regional Eye Associates offers full-service optical shops with hundreds of designer eyeglass and sunglass frames. We also carry a budget line. Our friendly optical staff is available to help you with frame and lens selection. Minor adjustments and repairs can be made to existing glasses, often at no charge.
We welcome you to stop by and visit the optical shops, where quality and fashion are always in style! No appointment is necessary. Hours of operation are Monday – Friday, 8:00am – 5:00pm.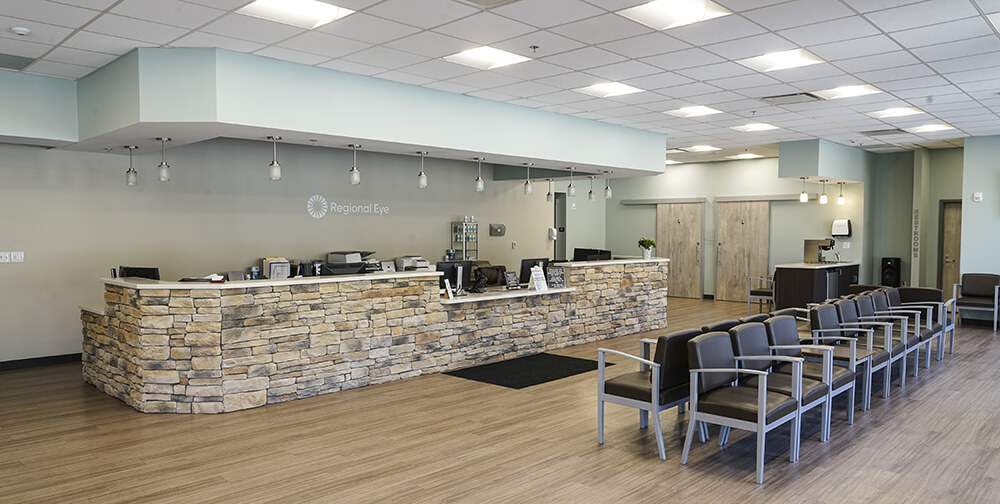 State-of-the-Art Technology
At Regional Eye Associates, we believe that there is so much more to a comprehensive eye exam than just an accurate glasses prescription. The nature of the eyes and visual system is such that many conditions can produce very similar symptoms. For example, blurred vision can be caused by something as benign as uncorrected refractive error or as serious as uncontrolled hypertension or diabetes.
Therefore, during our comprehensive eye and vision exam, we thoroughly evaluate the function and health of the eyes and total visual system to obtain ample information to diagnose the cause of signs noted by our doctors or symptoms reported by our patients. In addition, potentially blinding conditions such as glaucoma or diabetic retinopathy may cause no symptoms until they are far advanced and damage is irreparable. We therefore dilate all of our patient's eyes to allow us to look at all of the ocular structures to identify the presence of any ocular or systemic conditions that may exist without symptoms.
We incorporate the latest technology as well as rely on thorough objective examination of the eyes to ensure that all eye and related systems are evaluated. At the conclusion of the comprehensive vision exam, we take time to thoroughly explain all of our findings, make recommendations, and answer any question you may have.
Our Comprehensive Eye & Vision Exam Includes:
Detailed patient history
Measurement of current visual acuity
Evaluation of current glasses prescriptions
Vision related screening tests including pupil testing, eye movements, and visual fields
Measurement of the intra-ocular pressure to evaluate glaucoma risk
Screening blood pressure testing
Detailed near vision analysis including alignment and focusing posture
Determination of the refractive state of the eyes to identify the need for a glasses prescription, taking into account special visual demands and needs
Detailed assessment of external and internal ocular health, including pupil dilation and related systemic health conditions
Thorough education and consultation with the patient regarding his or her visual, ocular, and related systemic health care status, including recommendations for treatment, management, and future care.
The Pediatric Eye & Vision Examination
Vision disorders are the fourth most common disability in the United States and the most prevalent handicapping condition during childhood. Studies show that one out of ten children is at risk from undiagnosed vision problems. Many eye conditions, including amblyopia (lazy eye), muscle imbalances, large refractive errors, and some ocular diseases do not have warning signs and can be easily missed in routine well-care examinations given by pediatricians. These vision problems can interfere with a child's ability to develop skills and perform to their potential.
In addition to visual acuity screening, our comprehensive pediatric examination also includes testing for unequal amounts of nearsightedness, farsightedness, or astigmatism which could prevent one eye from developing properly. We carefully check that the eyes are positioned straight, work well together as a team, and focus accurately. In general, although they may be apprehensive, most children find the whole process painless, and often fun!
Many medical insurance plans cover comprehensive ophthalmology examinations. Our office staff will be glad to help guide you through this process.