James V. Jones, OD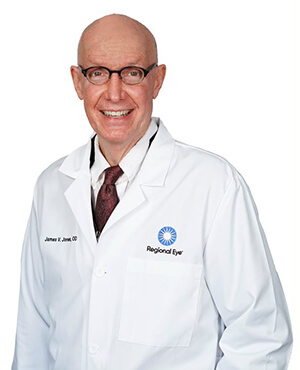 Specialties
Practice Locations
Dr. Jones completed his undergraduate pre-medical studies at The Johns Hopkins University. He received his Doctor of Optometry degree from Pennsylvania College of Optometry in 1980, and completed a clinical externship in low vision rehabilitation from the William Feinbloom Center for Vision Rehabilitation.
He was the director of the Low Vision and Vision Rehabilitation Service at the University Eye Center of the West Virginia School of Medicine, from 1994-2000. He has been a vision rehabilitation consultant for the Maryland School for the Blind, the West Virginia School for the Blind, and for Mountain View Rehabilitation Hospital. He continues to be staff optometrist for the Hopemont State Hospital.
Dr. Jones is a past-president of the Western Maryland Optometric Society, and served for years as a member of the Board of Directors of the Maryland Optometric Association.
Dr. Jones provides comprehensive eye care for patients of all ages. He provides specialized services for low vision rehabilitation of partially-sighted patients; he also provides specialized contact lens fitting services including multifocal presbyopia, high and irregular astigmatism, damaged and diseased corneas, and myopia reduction.
Dr. Jones is a native of Garrett County, Maryland, where he was raised on a beef cattle farm. He continues to live there with his wife, Liliana, and they have four children and a granddaughter.